Impact Reporting
Purposeful companies who commit to business that benefits people and the environment are now outperforming their peers. Environmental, social and governance (ESG) or impact reporting is a journey of continuous learning, adaptation and meaningful communication – let us be your guide. You may be just getting started and want to assess your company's carbon footprint or you may be further along and looking for new approaches to enhance your ESG or impact reporting.

Wherever your company is along its journey to sustainability, we bring more than two decades of environmental and social engagement expertise to help you build credibility as a purposeful company. We are a trusted source of advice, communications and reporting strategies that can be customized to a diversity of audiences. As a founding Canadian B Corp, Green Living Enterprises meets the highest standards of verified social and environmental performance, public transparency, and legal accountability to balance profit and purpose. There is a clear advantage to having us on your team.
Copywriting and editing
Corporate storytelling
Credible advice
Customized thematic approaches
Design and layout of content and data
Environmental impact assessment and certification assistance
Gap analysis/reporting strategy
Infographics
Online tools
Program design and implementation services
Website landing pages
Our Approach
Impact reporting needs can range from highly regulated to informal, so check out our seven recommendations below to help you assess your reporting needs. Keep in mind that the best approach aligns with your brand and your values. We can work together to find the right approach for you.
Committing to employee engagement
You can foster an open and inclusive work environment that will help you attract and retain talented people, and as a B Corp we can help you.
Supply chain assessments
We will help you ensure your suppliers understand and meet your expectations of social and environmental responsibility.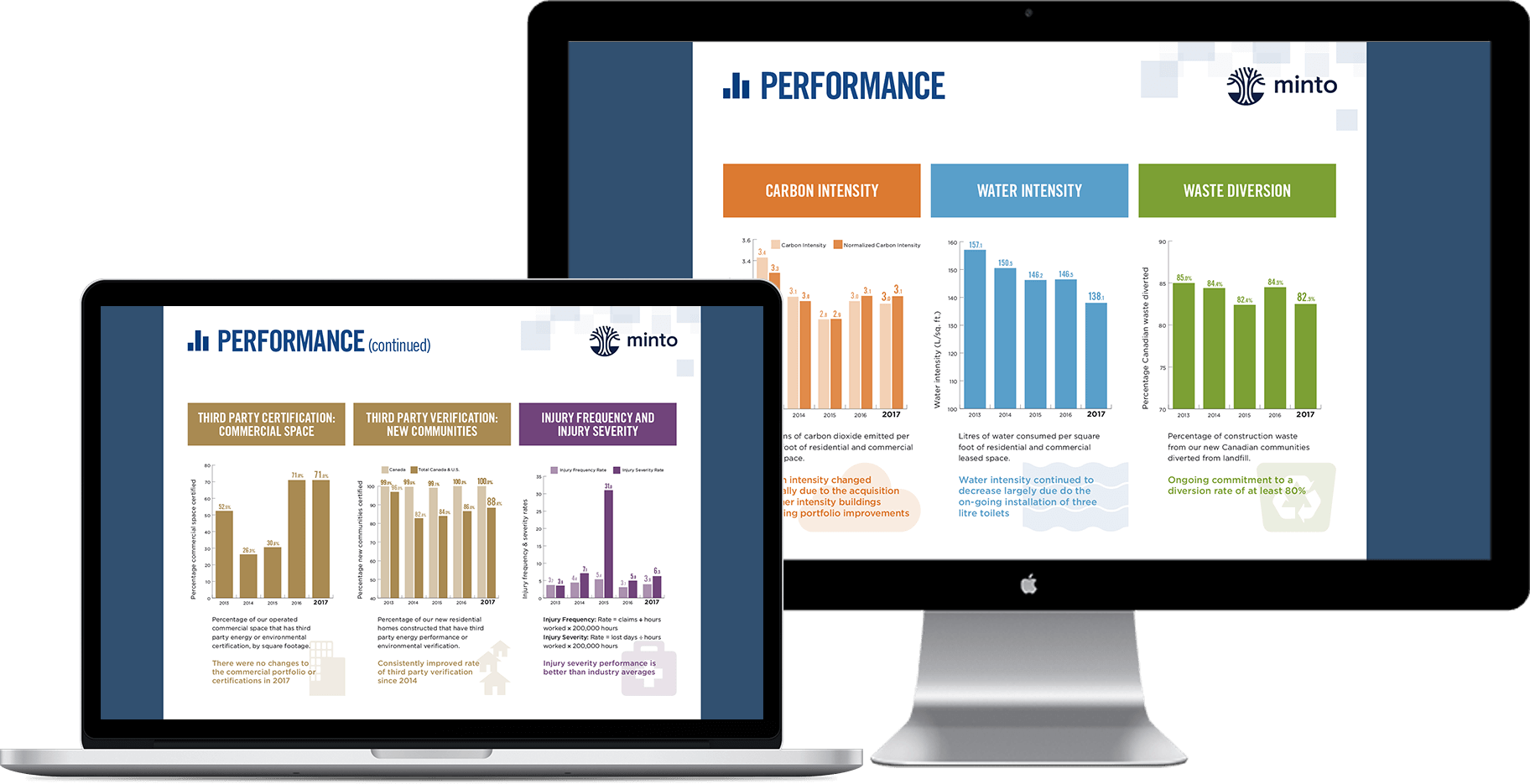 Minto Sustainability Report
Credible environmental messages
We can leverage our two decades+ of commitment to honest and fair environmental communications to ensure that your marketing techniques accurately reflect your company's integrity.
Community giving
We have the expertise to facilitate the establishment of meaningful partnerships within your community and align your corporate giving to meet your objectives.
Explore B Corp certification
B Corps are certified "beneficial" companies. Their purpose is to create value for society as well as money. They meet high standards of transparency and accountability and create positive social and environmental benefit.

As a certified B Corp, Green Living Enterprises has been awarded Best in the World and Best for Workers for several years running and has maintained the highest grade in social and environmental rankings. Let us be your expert guides through this process.